More and more Software as a ServiceCloud services are replacing "classic" software to install on your computer. After work and productivity suite, to fly on the cloud antivirus. An increasing number of users are in fact choosing to protect their computer through a Cloud antivirus, with the consequent saving of money, hard disk space and CPU consumption. But what is the architecture behind these software?
The newly arrived Cloud Antivirus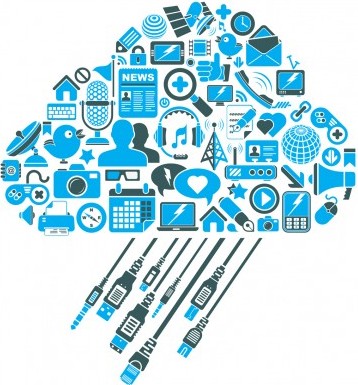 Cloud Antivirus software does most processing it elsewhere on the Internet rather than on your computer's hard drive. The new technology of Cloud Computing These innovations made possible and especially affordable.
An antivirus Coud based consists of two components that work together:
a Thin-Client (I.e. a "read programor ")
One or more Web services, hosted by Server manufacturer of Antivirus
The client is a small program running on the local computer that scans your system for malware. Antivirus applications installed locally are notorious eaters of system resources, and the particularity of the antivirus Cloud is that only require a small amount of processing power.
The Web service in the Cloud, a software running on one or more servers somewhere on the Internet. The Web service handles most of the work, then your computer does not need to process and store large amounts of information about viruses. At regular intervals, the client will scan the computer for malware in Web service database.
Pros and cons of Cloud
Here is a summary of the benefits of a Cloud Antivirus as compared to a traditional antivirus:
We will always have access to the latest malware definitions on a few minutes after their release. There will be no need to download automatic updates to ensure protection against the latest threats.
The client portion of a Cloud antivirus is much more slight compared to standard antivirus, and requires less computational power.
The product is more adaptable to suit your needs. Many vendors offer the ability for users to choose only the services they need.
Cloud antivirus software often comes with a GUI (Graphical User Interface) is slimmer so suitable for less experienced users.
But what are the drawbacks? As you can imagine this system is almost completely dependent oninternet access. It is true that nowadays very few people who do not have an internet connection, but the Italian reality is far behind European or global one.
Earn performance in terms of CPU, Ram and space on Hard Disk could mean losing performance in free. Yes, because it may take regular connections with servers in the Cloud, and the upload suspicious files to scan. For a corporate connection often there are problems, but for a home with Smart TV, smartphones, and Tablet PCs connected to the same network could be. We'll see how the market will evolve, but especially if and when things will change in our country.