Censoree trends for the British multinational?
Why a telephone handy Provider Vodafone would like to block a feature so basic and innoqua? Why on earth would send what little whores Net Neutrality Italiana that there remained?
The cause is apparently unknown, but we can come up with a few assumptions:
Want to be able to track the habits of its poor and unlucky customers (and I assure you that it does already)
Want to exercise control on what a user can or cannot see
What happens when a customer navigates Vodafone?
The unvarnished truth is that whole ' network Vodafone is covered by a system called "Transparent Proxy DNS"that, even with manual settings on DNS, will capture DNS request packets (all bushings for port 53) and divert them on its DNS, preventing thus navigating on sites in "blacklist Vodafone". To better understand you place this image of co-workers dnsleaktest.com:

Aside from the fact that what has been done by Vodafone is palesemente ed oggettivamente un'ingiustizia, to give support to what I say (and as I say, given the obvious nervous), here's a letter from the ADUC to a friend:
Dear associate,
We believe that you are correct. Moreover, there are precedents in favour of net neutrality, though not specifically of the DNS. If you change the DNS is necessary thing, and the contract does not provide for the restriction that you reported, may challenge the failure of (failure that takes the form of a limitation on usage of users).
What they should do, in order:
1. Send anintimation the Manager with recommended a/r asking possibly damage: http://sosonline.aduc.it/scheda/messa m ... a_8675.php
2. If the letter gets negative response or no response is received, make a conciliation attempt at the Corecom its region: http://sosonline.aduc.it/scheda/concili ... _15317.php
3. If conciliation is not successful, do because his justice of the peace or submit defining instance the dispute to its Corecom, regional If enabled, or directly atAgcom using form GU14.
Make a complaint to the authority for safeguards in communications: http://www.agcom.it/Default.aspx?messag .. .or & DCId = 200
Sinceratovi so the question now as DAB the problem
How can I surf on sites that Vodafone doesn't want to show me?
For midrange users won't be definitely a quick and easy option to use, but it is still the best:
Tor is a free software (and an open network) that lets you defend against traffic analysis and network monitoring forms that threaten personal freedom and privacy, assets and confidential relations and the security of the State.
Other possibilities?
Change YOUR ISP quickly making a Vodafone what it does best, which is the only mobile telephony
Use a service of VPN
Use a dedicated Server as Proxy
Unfortunately for anyone using DynDNS services to access your remote devices not ' is nothing to do except to changing ISP.
[
Update

Using the DNS Change]

App

Vodafone Station for new Vodafone contracts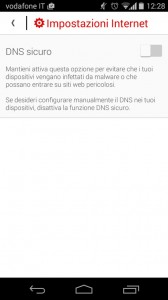 Thanks to the comment a very kind user, frabregs, It is noted that with theApp Vodafone Station (Android Links and iTunes link), and the Vodafone Station Revolution (just exit and distributed to new customers ADSL and fiber) you can disable Transparent Proxy and DNS manually change connection settings on your computer. This setting when is not available from the control panel of the Vodafone Stationbut only from the App. I attach Screenshots to frabregs:
For anyone else interested to the topic DNS Here is a link to a detailed article on how to understand the best DNS for us.
http://andreapigliacelli.com/server-dns-migliore/